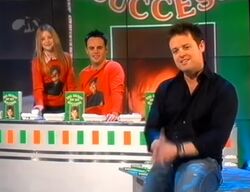 Dec Says (also known as The Secret of My Success) is a long running Sketch appearing weekly on SMTV Live. The show starts with Dec talking to the Camera but cuts to a flashback to Ant, Dec and Cats childhood.
Dec Says involved Dec would present reading a supposed viewer's letter about a personal problem from a viewer before launching into how he was once in a similar situation but was able to get out of his because of his excellence. However, Ant, who was always standing nearby at the phone desk, would remember things differently, leading into a flashback sketch set during Dec's childhood. The flashback would always show Dec as an inconsiderate, cheeky schoolboy who would always get himself into trouble, usually involving the show's guests playing various characters.
Later sketches revolved around a badly-selling book by Dec called "The Secret of My Success". The last sketch on the last ever SMTV 'explained' how Ant & Dec came to be a double-act, and showed Dec and Cat auditioning for Pop Idol, hosted by Ant and Dick (Richard Whiteley), who Dec replaced after an unfortunate 'accident' during the sketch.
Ant also occasionally appeared as a schoolboy in these sketches, where he was an overweight boy who ate huge amounts of food and was referred to as Gi-Ant. This section also introduced the character of 'Cat the Dog' which was Cat as a schoolgirl with very messy hair, huge teeth and a strong Birmingham accent. Cat the Dog later appeared in her own run of sketches, The Further Adventures of Cat the Dog.
Background joke
Edit
At the beginning of the segment, whilst Dec is talking to camera, there is always Ant and a young girl (Kirsty Netzel) in the background pretending to answer phones. Each week there is a small background gag involving these two such as showing off who has the largest drink, with the drink cans increasing to extremely large size.